Welcome to Mosaically
Instantly create beautiful photo mosaics online, share them with your family, friends, and community, and invite them to add their own photos. It's free, fast, and easy!
Why create a photo mosaic?
A custom
photo mosaic
is a great way to bring out all your memories. You have so many wonderful memories stored on your phone. When you turn them into a beautiful photo mosaic, and hang it on your wall, you'll be reminded of all the wonderful memories every time you look. Plus, it's a great conversation piece.
It's the perfect gift for your loved ones. Memories make us who we are. Making a big picture out of little ones, celebrating your time spent together is a truly wonderful way to remind someone who they are to you, how much they mean to you, and how much you love them.
And if it's for your mom or dad, and they're the kind of people who cries during movies, then they will likely cry when you present it to them. At first, they will see all the photos, and be reminded of your time together, and feel the love behind you making it for them and what it means to them. They will burst into tears. Be prepared for lots of hugs and kisses, and a camera too if you want to capture the moment.
Photo mosaics are useful in so many ways. Check out our gallery where some people have shared their creations publicly. Your mosaics are always private by default. You can choose to make it public or unlisted.
How to create a photo mosaic
You pick the big picture, and then add the small pictures. Then your mosaic will be created for you automatically.


If the automatically created mosaic is not quite perfect, you have the ability to fine-tune every aspect of it to make it perfect. And if you're having trouble, we're available via live chat to take a look at your mosaic, and guide you in perfecting your mosaic.
How much is it?
It's free to create, share, and collaborate. Click the Share button on your mosaic to get a free shareable download and a free shareable video of your mosaic.
Can I order prints?
Where do you ship from?
Mosaically Inc. is a US company, located near Chicago in Naperville, IL. However, all of our prints are made in Germany. This is because the highest quality prints in the world are produced in Germany. So when you order a print from us, you can rest assured that you are getting the best you can get anywhere in the world.

When can I get it?
The mosaic creation is instantaneous. It's automatically created as soon as you upload the pictures.
If you order a print, the production times vary depending on the media you choose, and the time of the year. You should try to order sooner rather than waiting until the last minute, especially during busy times like Mother's Day and Christmas. If you know what you want, go to
Pricing
page and below the media you want, click the link [when will it arrive] and select your country, and it will give you an ETA window. This ETA window is very wide due to possible delays occurring from your mosaic not meeting our quality standards. If we think you won't like your mosaic once you receive it, then we will put your order on hold and contact you to assist you in fine-tuning your mosaic. This is part of our satisfaction guarantee, and an added benefit of ordering a print directly from us.
If you buy a download, it is available immediately upon purchase. And you can take it to your local print shop right away.
100% Money Back Satisfaction Guarantee
If you're not happy with your purchase, we'll issue you a full refund.
What makes a gift special?
What's the best gift you've ever received? Not the biggest, baddest, or the most expensive. But the one that still gives you the butterflies. What's so special about it is not the gift itself. But the giver, their love.


Love and be loved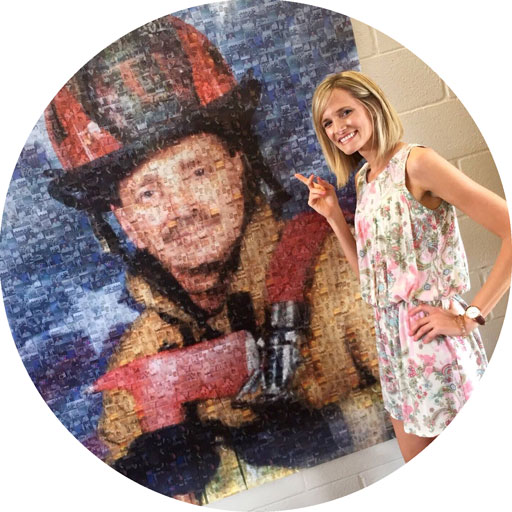 Firefighter's Tears
Hero. Risking his life to save others. For his retirement, his daughter secretly reached out to his fellow firefighters. Collected all their photos together over the years. Created a custom photo mosaic portrait of him in his full gear. Giant print. Retirement party. Big reveal. He cries from the overwhelming love. Now it hangs at his home, and every time he walks by it, he is reminded of all the memories of his time, and of his daughter's love and colleagues' respect.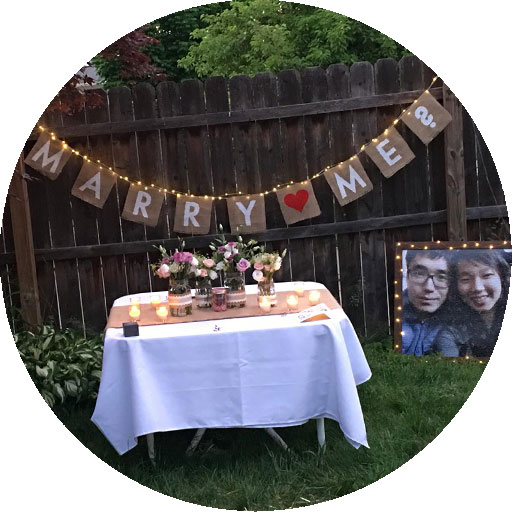 Marry me?
They fell in love. He wanted to propose to her. He decorated the backyard with flowers, candles, and a sign that says "Will you marry me?" And made a custom photo mosaic print of all wonderful their memories together. It was also displayed at their wedding. Now it hangs on their wall. And every time they walk by it, they're reminded of their special time together.
Chat
Now
#mosaically